Welcome to 4×4 & Outdoors, a proud part of the Everett Auto Team! With well over 50 years in the automotive business it shouldn't come as a surprise that we have a passion for kicking up mud and custom rides! Offering a whole host of products from light bars, lift kits, wheels & tires, window tint, axle upgrades, ceramic coating, LED lights and so much more! You can find us at 701 US Highway 70 SE in Hickory where our team of enthusiastic ASE certified technicians are ready to help you with your project! 4×4 and Outdoors is your one stop shop for all your wish list items! So, jack it up or slam it on the ground, add big tires and LEDs we've got you covered! Do you have a wish list but not sure where to start? Call us at 828-485-3030 or come on by!
Toyota Tacoma Gets Lift, Boards and Maxxis Tires
LIFT KITS AND SUSPENSION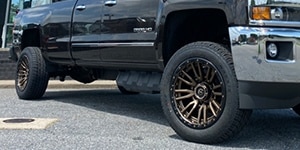 There are numerous benefits to upgrading the suspension on your vehicle at 4×4 & Outdoors, whether it be better handling or off-road adventures, we are here to help! We offer quality lift kits, lowering kits, leveling kits, coil-over assemblies, shocks and struts. We even offer suspension components such as sway bars, bushings, and lower control arms, all installed by our ASE… More
WHEELS AND TIRES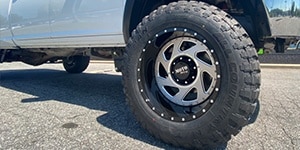 Are you looking to stand out in the crowd? Climb the nearest rock? Gain more traction on the track? Look no further than 4×4 & Outdoors. We offer the biggest, baddest name brands in wheels and tires that the industry has ever known! Quality wheels and tires can make or break your vehicle (literally) with better handling… More
Window Tint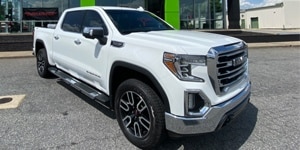 You want true, trustworthy customization. We want you to have it here at 4×4 & Outdoors.
What you drive is highly personal, based on a unique combination of wants and needs. We believe customizing your car should enhance this feeling, not compromise it. This is why we offer multiple types of automotive films, all engineered to premium standards and backed by a limited lifetime warranty. Get ready to find your ideal automotive film: a luxurious look…. More
We have different type of Window tint, click on them to learn more
4×4 & outdoors is your one stop shop for vehicle customization and off road projects!